NEWEST MEMBER OF GTS FAMILY SCOOPS AWARD IN 2019 AUTO TRADER BEST BIKE AWARDS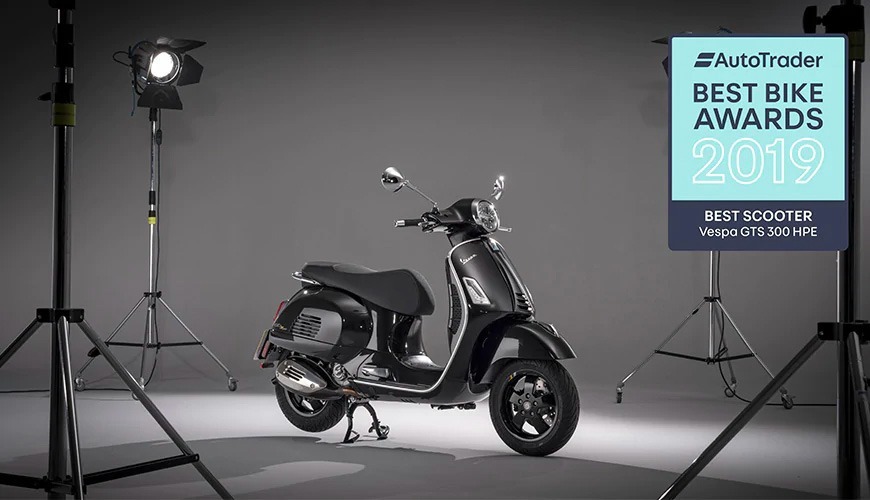 Auto Trader has named the Vespa GTS 300 hpe SuperTech as the Best Scooter in its annual Best Bike Awards.
As the judges' favourite in the hotly contested Scooter category, the GTS 300 hpe SuperTech beat competition from BMW and Honda to win the award. When asked about the winning bike, Guest Judge Jon Quirk said, "Vespa is the only scooter company that manages to elevate a seemingly ordinary device into a functional art form. The GTS 300 remains the definitive scooter with its unique style and, in HPE form, improved performance. It remains a class act."
Simon Greenacre, Marketing Communications Coordinator at Vespa/Piaggio Group in the UK said, "It's great to see the newest member of the Vespa GTS family getting this kind of recognition. The GTS 300 hpe SuperTech is the most powerful Vespa we've ever made and is also packed with technology to make it a joy to use own and use, so we're pleased that it carries the GTS name forwards with this award."
New for 2019, the SuperTech is the flagship GTS 300 hpe and the latest addition to the Vespa GTS 300 range. Featuring a colour TFT display with smartphone connectivity and a new high-performance engine (hpe), the most powerful seen on a Vespa with over 23 hp, the new SuperTech is the flagship Vespa, a model that carries Vespa's style, heritage and hostroy of riding pleasure in to the future with while being packed with technology and innovation.
---
Address
Arnolds Burton-upon-Trent
22 Borough Road, Burton-upon-Trent, Staffordshire, DE14 2DA, UK. Contact Us Today
Arnolds Leicester
275 Abbey Lane, Leicester, Leics, LE4 5QH, UK. Contact Us Today
Arnolds Loughborough
58 Leicester Rd, Loughborough, Leics, LE11 2AG, UK. Contact Us Today
---
Opening Hours
Monday - Friday: 9:00am to 5:30pm
Saturday: 9:00am to 5:00pm
Sunday: Closed