Aprilia Caponord 1200 Rally: What The Media Says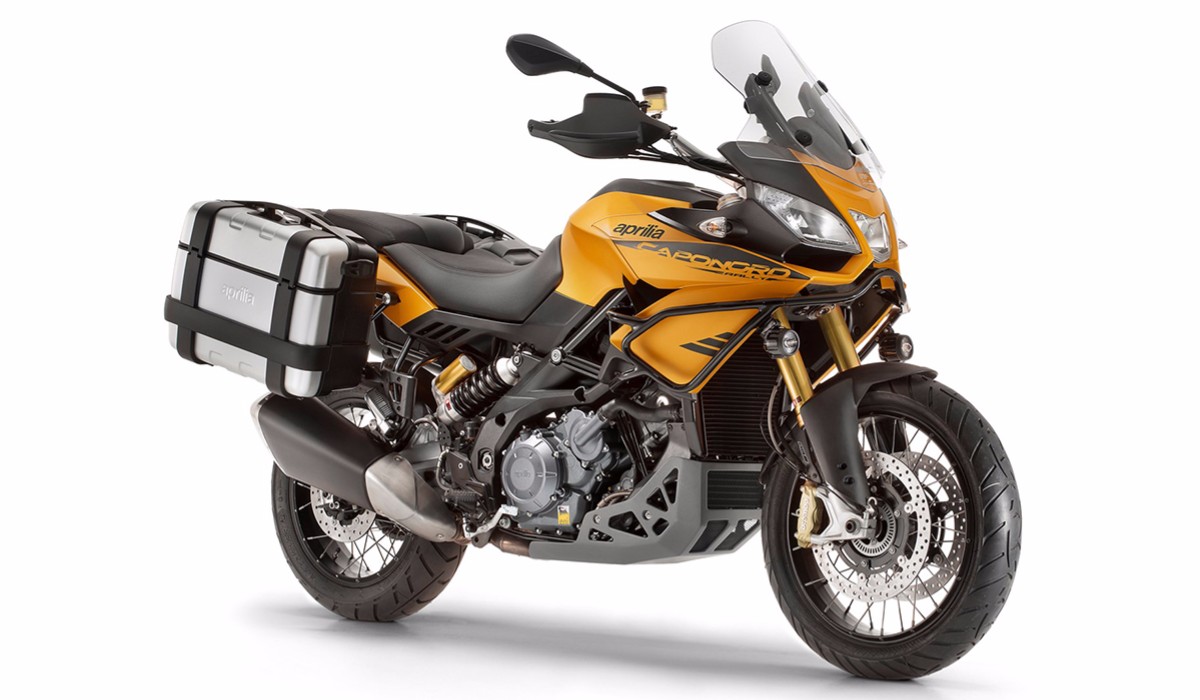 Aprilia Caponord 1200 Rally
Aprilia rolled out the first Caponord in 2001, and we've improved the breed every year since. Today's Caponord 1200 Rally has an unprecedented array of features for toughness, technology and versatility. This testament is shared by many moto journalists, as you'll see in a bit.
But first let's review just why our Caponord is an optimal machine for any type of riding. The 2017 Caponord 1200 Rally is specifically designed to bring the kind of power and comfort necessary for high-speed, long range touring in the Interstate, the easy handling and low-cost to operate for daily commuting and the brute strength and ruggedness for off-the-pavement adventure riding.
The heart of the Caponord 1200 Rally is Aprilia's race-bred 90° four-stroke, double overhead cam 1196cc V-twin with four valves per cylinder. The engine delivers 125 hp @ 8,000 rpm and 84.8 ft/lbs of torque at 6,800 rpm at the crankshaft. All that power is brought under precise control with Aprilia's ride-by-wire system with three engine maps. In addition, cruise control is included for those long, lonely stretches of stable-speed cruising.
Of course, all that punch needs to be matched up with a rigid chassis and terrain-eating suspension. In that, even the suspension and brakes are ultra-high tech. To do that, the Aprilia Dynamic Damping (ADD) suspension system was developed.
The ADD system optimizes control and comfort by measuring the energy transmitted from the road surface to the bike and adjusts the hydraulic fork calibration and shock absorber in real time to minimize acceleration force on the frame.
To achieve maximum performance at any fork and shock absorber operating frequency, ADD uses a patented "MIX comfort oriented" algorithm that combines the principles of the well-known skyhook and acceleration driven damping algorithms.
ADD utilizes an integral piggy-back shock absorber which provides electrically adjustable spring preload to four-predefined settings, indicated by specific icons on the digital instrument panel: rider only, rider with passenger, rider only with panniers and rider and passenger with panniers. 
This exclusive Aprilia system is patented as is the automatic preload control mode for the rear spring. Once this option has been selected, the system can detect the bike's load by itself (weight of fuel, rider, passenger, luggage, etc.) and automatically adjust preload to the optimum value to balance the bike properly. This frees the rider to focus on riding; the most vital safety feature of all. Aprilia is the first motorcycle manufacturer in the world to have introduced active suspension. 
The Caponord receives the most advanced electronic control and rider enhancement systems through the Aprilia Performance Ride Control System (APRC). The system includes Traction Control and ABS.
The Caponord's astonishing power and handling must also be matched with powerful, predictable brakes. That stopping power is managed by a two-channel Continental Anti-lock brake system (ABS). Front braking is handled by double 320mm floating stainless steel discs with an aluminum carrier clamped by four piston radially mounted Brembo calipers with steel braided brake lines. Rear has a 240mm wavy stainless steel disc clamped by a single piston Brembo caliper with braided steel brake lines.
The chassis mates a steel tubing upper trellis connected to aluminum lateral plates forming an extremely rigid, lightweight frame that allows the use of the power of the engine to maximum advantage on pavement or trail. 
Rear suspension is a double-sided aluminum alloy swingarm with single lateral positioned Sachs shock absorber adjustable in hydraulic rebound damping and spring preload, with the ADD system. Rear wheel travel is 150 mm (5.9 in.). Front suspension is by a completely adjustable Sachs 43 mm inverted fork with hydraulic rebound and compression damping electronically controlled by the ADD system. Fork travel is up to 170mm (6.7 in.).
Striving for the versatility necessary to perform well in such diverse environments can lead to so many compromises that the old "jack of all trades, master of none" syndrome can set in. Does the Caponord 1200 Rally achieve the right balance? Here's what some of the experts have said.
Allyn Hinton, writing for Top Speed Motorcycles said: "Aprilia serves as the large-displacement sportbike/race branch for Piaggio, and as such, put out a lot in the way of supermoto and stoplight-burner bikes. The subject for today is not one of those, but rather an on-/off-road bike that carries that unmistakable Italian style with a veritable alphabet soup of fancy electronic subsystems. Aptly named the Caponord 1200 Rally, this ride straddles the line between race-tastic ability and real-world practicality with an eye to long-distance comfort. A 1200 cc mill pushes the thing with ride-by-wire throttle control, variable rider modes and cruise control, plus dynamic suspension and traction control to boot. As one of the few non-crotchrocket bikes made by the company, the Rally stands out as something of an anomaly, but I see no sign that Aprilia is in over its head with this design."
Jonathan Handler, writing for Ultimate Motorcycling said, "As an all-around bike I found the Capo to be friendly, capable and willing. Like a good dog, there was nothing the bike would not do for me. It was mild around town offering the ability to, almost, mindlessly go about my business. In the twisties it simply flung itself from corner to corner with precision control and no excuses."
Jamie Robinson, in a video review for Moto Geo, said, "Overall, from the Caponord 1200 Rally you'll get a bike that has bags of power, is agile, you can go on-road or off-road, you can definitely click by some miles and you're going to really enjoy riding this bike."
---
Address
Arnolds Burton-upon-Trent
22 Borough Road, Burton-upon-Trent, Staffordshire, DE14 2DA, UK. Contact Us Today
Arnolds Leicester
275 Abbey Lane, Leicester, Leics, LE4 5QH, UK. Contact Us Today
Arnolds Loughborough
58 Leicester Rd, Loughborough, Leics, LE11 2AG, UK. Contact Us Today
---
Opening Hours
Monday - Friday: 9:00am to 5:30pm
Saturday: 9:00am to 5:00pm
Sunday: Closed