Losail (Qatar), 2 November 2014 - It is a triumph, a double world championship win that was unimaginable just a few races ago. On the Losail track in Qatar Sylvain Guintoli completed a comeback that will go down in Superbike history and with two brilliant and undisputable wins in the two night races on the desert circuit he overtook Tom Sykes, earning the World Champion crown for the first time in his career.
Aprilia doubles the celebration by becoming the Manufacturer World Champion for the third consecutive year, reaffirming the undisputed technical superiority of the RSV4, the Italian bike that has rooted the best competition in the world since its rookie year in World SBK (2009), winning 7 World titles (three Rider and four Manufacturer). This world championship combination (Rider and Manufacturer) is the third one for the Aprilia RSV4 after sweeping the competition in 2010 and 2012 with Max Biaggi.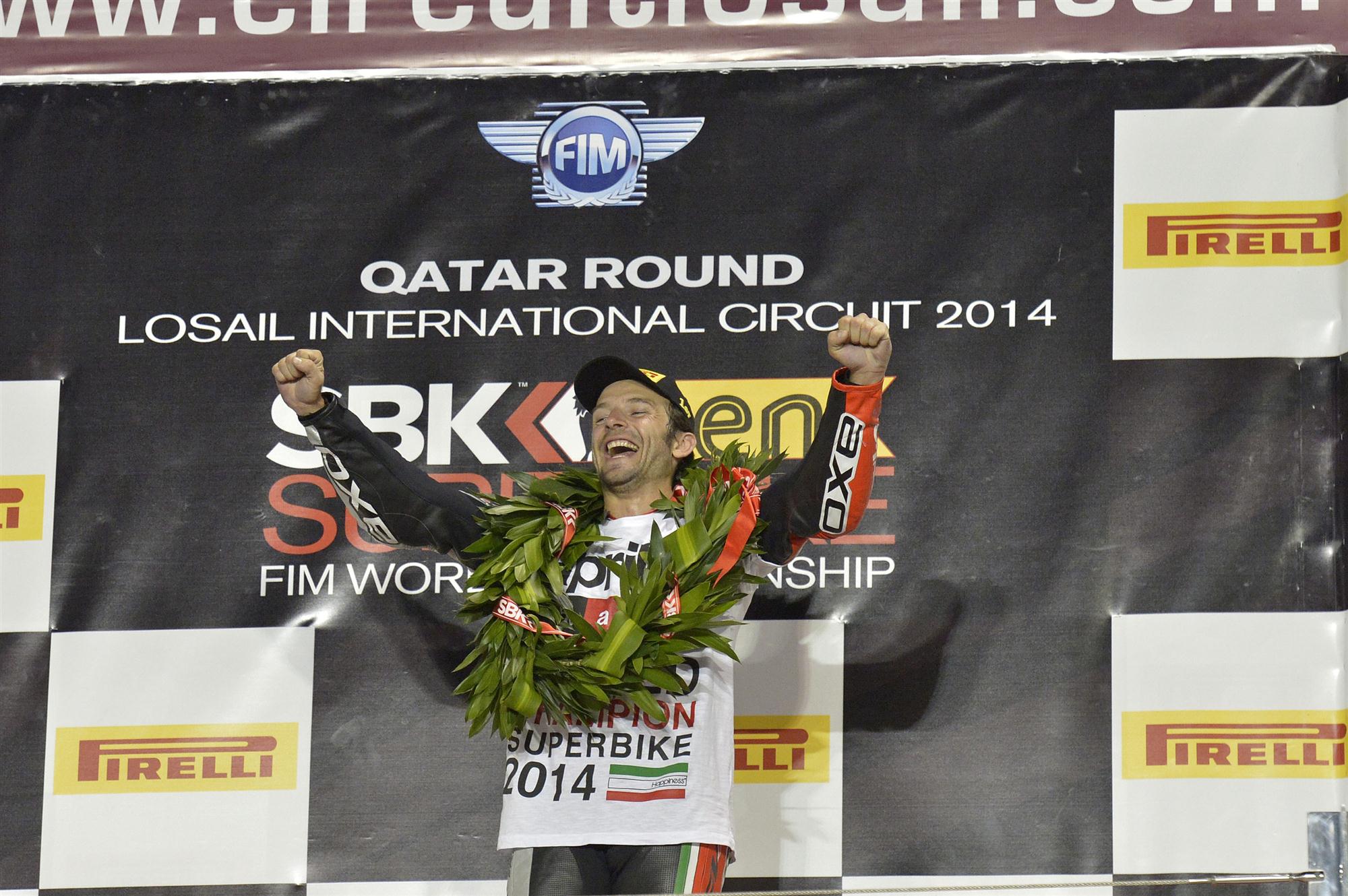 The manufacturer from Noale now totals 7 World Superbike championships in the last five years and takes its extraordinary collection to 54 world championship titles won in just over twenty years.
For the Manufacturer World Championship Aprilia racked up 11 wins (5 for Guintoli, 6 for Melandri) and another 16 podiums for a total of 468 points against Kawasaki's 431, Honda's 350, Ducati's 291, Suzuki's 234, BMW's 81 and MV Agusta's 34.
The new Aprilia Racing adventure in World Superbike began in 2009 with the development of the innovative RSV4. With its exclusive 65 degree V engine and a chassis derived from years of racing experience, the Aprilia Superbike marked a turning point in the super sport bike world. Already capable of winning in its rookie year, the RSV4 broke the WSBK bank in 2010, its second season in the championship, taking both the World titles up for grabs: Manufacturer and Rider with Max Biaggi. This was the start of a long series of wins. Biaggi - the first Italian to win the World Superbike championship - doubled the Rider title in 2012 and the RSV4 once again took the World Championship for manufacturers in 2012, 2013 and again this year in 2014.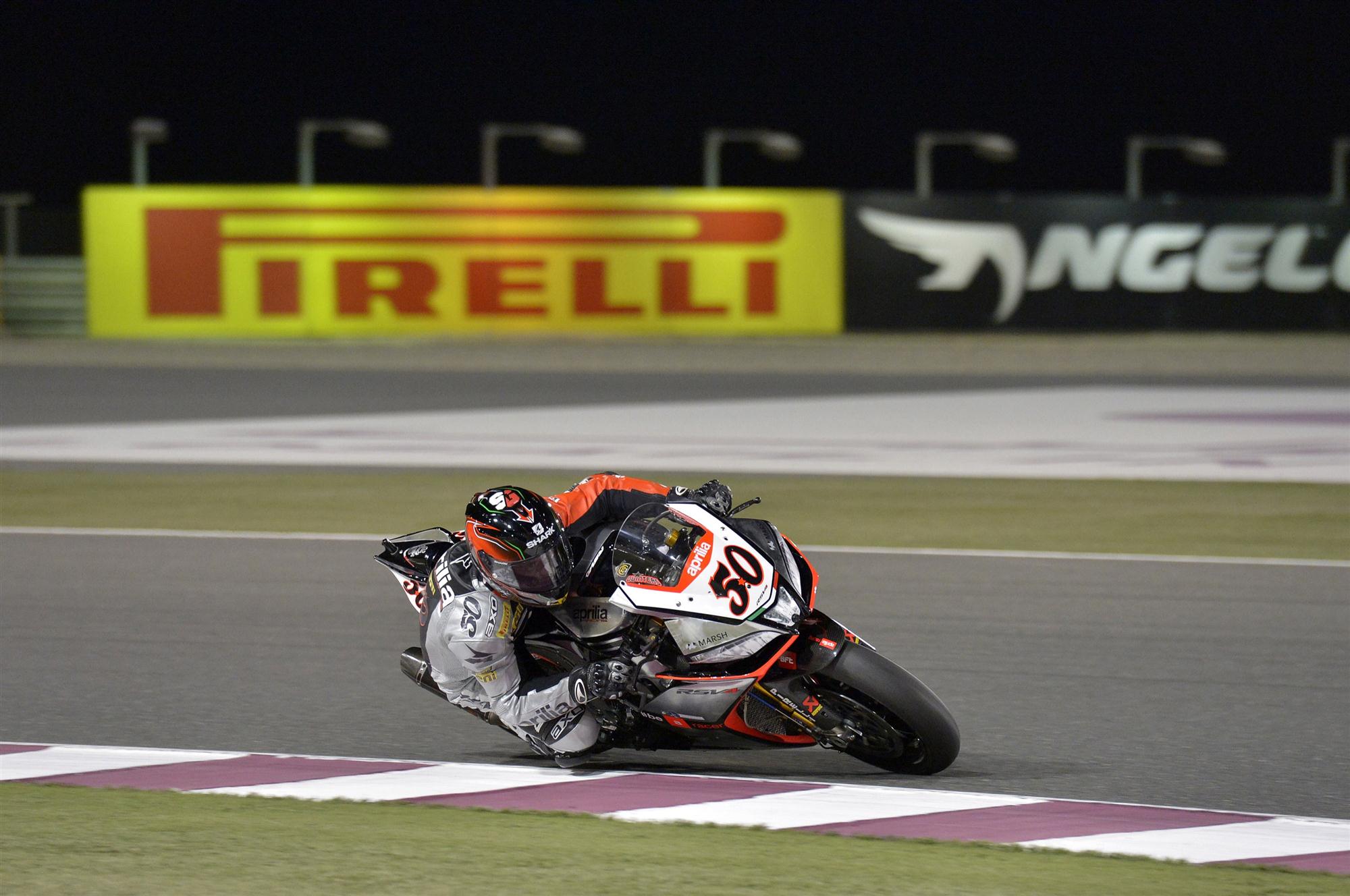 Seven World Championship Titles (3 Rider and 4 Manufacturer), 41 wins, another 89 podiums and 10 pole positions make up the extraordinary World SBK spoils of a unique bike, created to dominate both on the track and on the road.
In all Aprilia boasts 54 World Titles (38 in MotoGP, 7 in Superbike and 9 in off-road disciplines) which make it one of the most victorious brands ever on a global level in motorcycle racing. The Piaggio Group's extraordinary trophy case, thanks to Aprilia as well as its other historic brands, Moto Guzzi, Gilera and Derbi, now contains 104 World Titles to make it the most decorated European motorcycle manufacturing group.
---
Address
Arnolds Burton-upon-Trent
22 Borough Road, Burton-upon-Trent, Staffordshire, DE14 2DA, UK. Contact Us Today
Arnolds Leicester
275 Abbey Lane, Leicester, Leics, LE4 5QH, UK. Contact Us Today
Arnolds Loughborough
58 Leicester Rd, Loughborough, Leics, LE11 2AG, UK. Contact Us Today
---
Opening Hours
Monday - Friday: 9:00am to 5:30pm
Saturday: 9:00am to 5:00pm
Sunday: Closed